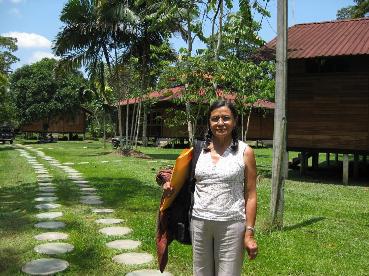 Gloria Cáceres




























Interview: May 2011
Fuente:http://www.sorosoro.org
("I will always be waiting for you")
A collection of bilingual Quechua/Spanish short stories.
Gloria Cáceres Vargas was born in Colta, Peru, in the department of Ayacucho. From the age of 7, her childhood took place between the area of Lima and her hometown. Her stays in Colta remain wonderful memories to her, with the background of her Quechua language and culture.
Years later, after she became a professor, her encounter with a Chilean linguist working on indigenous languages of Costa Rica triggered a spark inside her: she had to do something for her mother tongue, Quechua.
Gloria, the first you did as an « activist » was learning to write Quechua, and then teaching it…?
Yes, when I was teaching at the « National University of Education » I signed up to a « Quechua linguistics » specialty, and finally got a degree in Educational Science with a study on Quechua morphosyntax in my hometown.
Then from 1991, I turned my teaching and research activities towards teaching Quechua. I organized discussions, awareness workshops on the culture and language and classes to learn how to write the language.
Most university students were migrants or migrants' children from the Andean region.
Some spoke Quechua, others only understood. And when they learned how to write it they began to write poems, stories, songs, etc. It was a wonderful experience because to them it was like rediscovering themselves.
And then you began to write in Quechua yourself. What got you started?
The lack of material published in Quechua. My students had learned how to read in Quechua… but they had nothing to read! There were no books in Quechua, not even bilingual books. We had no textbook, no basic grammar book of the language.
This deficiency and the interest of my students encouraged me to create teaching material, textbooks and methodologies in Quechua, and collect riddles, known as watuchis, oral tradition tales and narratives, poems, etc. which I then gathered in a first bilingual book (Quechua/Spanish) "Riqsinakusun, learn to know".
Then you shifted to actual writing, to literature; why?
There still aren't many books written in Quechua so far. There are narratives stemming from the oral tradition, tales, myths and legends explaining the origins of what immediately surrounds the speakers, but that's not enough to guarantee the future of the language. Quechua shouldn't be seen as a language meant to celebrate the glorious past of the Inca era, but as a language that can be used to express all our present concerns and feelings.
So it's important to promote the production of literature in Quechua, to consider it as literary, modern and current language. Quechua is such an expressive and rich language in many ways; its vividness should be maintained through the writing of poems, narratives, papers, etc.
The translation of literary texts from Peruvian and universal authors should also be encouraged. This is crucial because not only is it a way of experiencing and understanding an environment, but it's also a way to project oneself in the knowledge of other realities.
What have you written yourself?
I'm writing poetry and original short stories at the moment.
A few years back, when I was tutor in Quechua at the "National Institute for Eastern Languages and Civilizations" (INALCO) in Paris, I was encouraged by Professor César Itier to publish my second book; a collection of poems entitled Munakuwaptiykiqa, Si tú me quisieras ("If you loved me").
And now here's Wiñay suyasqayki, Te esperaré siempre ("I'll always be waiting for you"), a book of short stories on those who emigrate to the cities but retain a bucolic vision of their hometown and always dream of returning, while life changes as well as themselves along with the experiences they go through.
Why always publish bilingual books?
First I write in Quechua because it's my mother tongue, and then I translate because the speakers still can't read only in Quechua, even native speakers. That's because we were only instructed in Spanish, which is changing in numerous places where programs of Bilingual Crosscultural Education have been implemented.
What is Bilingual Crosscultural Education?
Nowadays the Peruvian law enables young people from the Andean and Amazonian regions to access university without an entrance examination. All it takes is being introduced by their own community to the university they have chosen, with a commitment to return to their community to settle their job once graduated.
From 2,000, the « National University of Education » established a specialization in Bilingual Crosscultural Education (EBI) for these young people. The command of their mother language, whether Andean (Quechua and/or Aymara) or Amazonian (16 language families) was the main requirement to be trained as an educator.
So the university became home to indigenous Huitoto, Awajun, Ashaninka, Ese-ejas, Quechua, Aymara, etc. students. It wasn't easy for them at the start because they found themselves in a very different environment, but they eventually made it and returned to their communities to teach. No one could revitalize, preserve and transmit these languages to the new generations better then they can.
And what were the results of this policy?
Several batches of bilingual teachers have graduated to far. In the schools they work in now, the children are taught the four basic skills (speaking, understanding, reading and writing) in their own language first, weather it is Andean or Amazonian. Then Spanish is taught as a second language.
But the situations aren't actually the same everywhere: in some places the progress is obvious in the preservation of the mother tongue and the gradual emergence of an even form of bilingualism, where speakers are able to express themselves at optimal level in both languages. In other places, there remains a strong rejection of everything related to indigenousness. Besides, some areas are known for being on the road to complete hispanization, at the expense of indigenous languages.
Gloria Cáceres Vargas bibliography
1. Riqsinakusun. Conozcámonos, (Learn to know), 1996. Collection of Quechua riddles (watuchis), songs, poems and short stories. Quechua/Spanish.
2. Munakuwaptiykiqa, Si tú me quisieras, (If you loved me), 2009. Collection of poems that « sing the brittleness of love and the loneliness of the human being in a contradictory, mysterious and worrying environment » (César Itier). Quechua/Spanish.
3. Wiñay suyasqayki, Te esperaré siempre, (I'll always be waiting for you), 2010. Short stories on those who emigrate to the cities with the nostalgia and hope to return to their villages. Quechua/Spanish.
To buy books by Gloria Cáceres Vargas:
Paris:
- El Salon del Libro bookstore, rue des Fossés Saint-Jacques, 75005 – Paris.
- Peruvian store El Inti, 17, rue de Picardie, 75003 – Paris.
Lima:
- Times bookstore, San Isidro